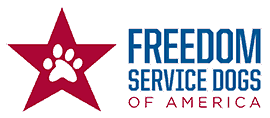 We Support
Freedom Service Dogs
At Freedom Service Dogs, we unleash the potential of shelter dogs by transforming them into custom-trained, life-changing assistance dogs for people in need. Our clients include adults and children, active duty military and veterans. Their disabilities include autism, traumatic brain injury, cerebral palsy, spinal cord injuries, muscular dystrophy, multiple sclerosis, and post-traumatic stress disorder.
Freedom Service Dogs was founded in 1987 as a nonprofit 501(c)(3) organization by Michael and PJ Roche. Both Mike and PJ were active with Assistance Dogs International (ADI) when the assistance dog industry was just developing. The Roche's worked diligently to transform FSD from a small, two-person organization into one of the leading service dog training organizations in the country.
Freedom Service Dogs is funded by charitable giving.  FSD does not charge clients for the services provided and also provides lifetime support for each service dog. FSD also assists in programs for humane education, disabilities awareness, character development for at-risk youth, and rehabilitation therapy. Our dogs come from shelters and rescue groups and can be trained to open doors, pick up items, pull wheelchairs, go for help, turn on lights, and know more than 50 other commands.
 The FSD Difference
Rescue Dogs: FSD rescues dogs from various parts of the country and custom trains them to become amazing service dogs. FSD does not have a puppy-breeding or raising program. Our experience is that there are plenty of unwanted dogs in shelters that are eager to get that second chance and a whole new career. Since our start in 1987, we have found that with dedicated training these dogs become heroes to those with disabilities, transforming their lives forever.
Custom Training: FSD matches dogs to their new partner and custom trains the dog to do the specific tasks required by each individual.
Provide Lifetime Support: FSD maintains contact with clients to provide annual recertification for the service dog and give hands-on support in new skill development.
Positive Training Methods: FSD uses positive reinforcement – click/treat – to shape play behaviors (retrieve, tug, paw, touch) into helpful tasks. FSD service dogs wag while they work!